The Most Beautiful Castles in Scotland
The Most Beautiful Castles in Scotland
There are so many great ways to experience Scotland, and one of the most enchanting is to visit Scotland's iconic castles. For this list, we've picked some of the most romantic and breath-taking fortresses, strongholds and châteaux across the country. We've included the most famous ones, but also some of the lesser-known gems to be discovered off the beaten track. For other ideas on what to do on your trip to Scotland, check out the rest of our articles, especially the one about casinos in Scotland. You can enjoy all the casino fun online too, with this Gala Casino Promo Code 2018.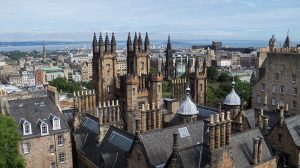 Edinburgh Castle

: This is undoubtedly Scotland's most historically significant and best-known castle. Set on Castle Rock high above Scotland's capital, it used to be one of the most important military strongholds of the Kingdom of Scotland. This sprawling complex is home of Honours (Crown Jewels) of Scotland, Stone of Destiny, Mons Meg and One O'Clock Gun.

Dunnottar Castle: Dramatic doesn't even begin to describe the effect of this majestic 14th-century stronghold, perched atop a huge rocky outcrop right above the sea. It is hauntingly beautiful ruin full of history. Once you climb to the castle you will be amazed by the stunning view of the North-East coastline.
Stirling Castle

: Masterfully restored to its original Renaissance glory, Stirling Castle will take you back in time and into the world of Stewart kings and queens. With excellent guided tours and lots of fun children activities, a visit to Stirling is a perfect family day out.

Inveraray Castle

: located on the shore of Loch Fyne, it is the ancestral home of the Dukes of Argyll. It's gorgeous neoclassical elegance, beautiful gardens and sumptuous 18th-century interior will take your breath away.

Cawdor Castle

: This romantic 14th-century fortress is best known as the fictional home of the Thane of Cawdor in Shakespeare's Macbeth. As enchanting as the castle itself are its three beautiful gardens, parts of which are over 300 years old.

Glamis Castle

: famous as the setting for Shakespeare's Macbeth, Glamis was home to the Earls of Strathmore and Kinghorne, as well as the late Queen Mother. The essence of baronial grandeur, many old stories and legends are linked to its red sandstone walls and pointed turrets.

Eilean Donan: this captivating 13th-century

castle is set on a small island at the entrance of Loch Duich, where sea meets the lochs. You will find many rare artefacts and Jacobite lore on display inside.

Dunrobin Castle

: the largest castle in the northern Highlands is located on the northern coast near Dornoch, and looks like it came out of a Disney movie. Its history reaches back to the early 1300s and it is home to the Dukes of Sutherland.

Culzean Castle: one of Scotland's most beloved visitor attractions, this 18th-century

castle will charm you with its captivating history, beautiful nature and Robert Adam trademark neo-classical Georgian architecture.

Kelburn Castle: this unique castle's colourful cartoonish murals are one of the best examples of urban art in the world. In stark contrast to its exterior, the inside of Kelburn Castle is luxurious and sophisticated, and its grounds are hiding a secret forest with a gingerbread house and Chinese garden.